Let me premise this by saying that I am an animal lover, so a faux shell was the ONLY way to go.


I have been coveting these big, white, wall hanging, tortoise shells online. This is the one YHL has by Nate Berkus for Target: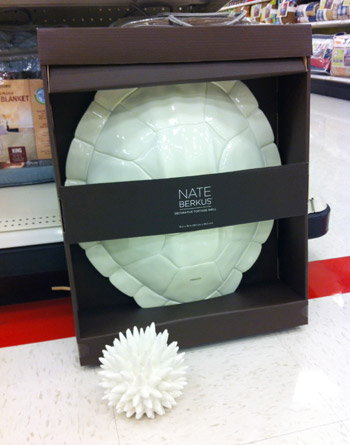 Let's just say they are cost prohibitive. If I knew they existed when they were first available at Target, I may have been able to purchase one, but now that they are "rare", it is an impossibility.
I checked into aquarium decorations, and hiding ornaments for reptiles, and although it is probably my best option, I had a light bulb moment one night after dinner.


We had one of those rotisserie chickens that you get from the deli at the grocery store, and as I was tossing out the bones, and rinsing the container for recycling, something struck me about the bottom tray. It looked like a turtle shell!


Do you see it? A man made, stylized turtle shell, about 1/4 the size of the ones I had been coveting, but still a
turtle shell
. It was something I had to try, and I could make as many as I wanted,
and
I LOVE how it turned out!
You will need:
Bottom tray of a Rotisserie Chicken from the Deli of your Grocery Store(I got mine at Cub)


Durhams Rock Hard Water Putty(I found mine in the wall patch/spackle section, it'll be on the bottom shelf,
I got the big one and used every bit) or a Concrete Mix


Water(Cool) *temperature, not like hipster water or anything


a disposable container to mix in


large craft sticks to mix with


measuring thing(2 of the same volume: 1 for water 1 for powder) I used sample cups we had leftover from making Jell-O shots


Picture Hangers(I used Picture Frame Hangers from Fleet Farm)


Non-Stick cooking Spray


Paint Can Opener (to Open Water Putty)


Spray Paint


You'll just mix the Water Putty with water at a ratio of 1 part water to 3 parts powder. It'll have the consistency of a runny peanut butter. The wetter and more runny it is the longer it will take to set and cure, but if it's too dry it won't hold as much detail. It's a slippery slope, people. I used 4 parts water to 12 parts putty powder, and that made a shell about a 1/2 inch thick.

You'll spray the "mold" with the non-stick spray and pour in the mixture. Note: Water Putty picks up detail so well that the first ones I did actually showed the air bubbles from the non-stick spray, so I didn't use it when I made the second set. It's optional, but you could use it and then let it sit until the air bubbles dissipate or wipe it lightly with a napkin or paper towel.


Water Putty sets up pretty quickly, a blessing and a curse,(even faster if you use warmer water, hence the cool water requirement)so you will want to tap the "mold" on the table a few times to release the air bubbles so they won't mess up the details in the "shell". Tap until no more air bubbles rise to the surface. Let sit on a level surface.


After it sits for a few minutes you will notice it firming up. This is when you can insert the picture hanger. If you do it too soon it will sink into the cast, if you do it too late, it will be too hard, and you will have to glue it in place(like the top left mold in this picture, oops).
Let it sit overnight, then pull the sides away until it loosens up, and turn it over and the piece will slide out. Set it on it's back for another night or until it is fully dried and cured. It will be hard and uniform in color. I sanded mine down in places to make it look less manufactured. Especially where the indented type was, and in the middle where the recycle symbol is.

All that is left to do is apply a few thin coats of spray paint, to assure you don't lose any of the detail, and decide where to hang it (or them). Make sure they are totally dry before painting.


You can leave them a solid color or color block them or create any design you want

I also made some using Liquid Cement Color by Quikrete in Charcoal. I added it to the water before I mixed in the powder. It really made it look like cement.



I tried to make the bottom one, in the picture above, into a dish by inverting the lid into the putty and weighing it down. It squeezed the putty up the sides to form the walls of the dish, but I didn't use enough putty to achieve the height I wanted for the edges.


Here is a look at a happy accident where the dye is swirled in with the un-dyed mix, ...and Madison's hand.




I tried other projects using the Rock Hard Water Putty...Check back, it'll be good!


If you have any questions, leave them below!